Why Is My Speakada Anki Flashcards Download Not Working?
If you're new to Speakada's digital flashcards and are having problems, or if you are wondering why your Speakada Anki flashcards download is not working on Anki, don't worry!
We've got some troubleshooting tips to help you get started.
Before reaching out to us, check these common issues that could be causing problems with your Speakada flashcards in Anki.
1. Remember Our Flashcards are Digital, Not Physical
Just a reminder that our Speakada flashcards are digital, not physical flashcards. As mentioned on our website and sales pages, and as seen from our image screenshots, you can use the Anki app and software to study our Speakada pre-made flashcards.
If you accidentally thought that our flashcards were physical flashcards, then here are reasons why you should study our digital Anki flashcards, and why they are better than physical flashcards.
Multimedia Integration: Study with images, audio, and videos for dynamic learning.
Spaced Repetition System (SRS): Optimize memorization with Anki's efficient recall scheduling.
Built-in Learning Management & Stats: Track progress and adapt to your learning pace.
Limitless Storage: Store an infinite number of digital flashcards, unrestricted by physical space.
Portability through AnkiWeb: Study anytime, anywhere on any device.
Effortless Backups: Secure your study material with easy backups.
2. Make Sure Your Download Link Is Active:
When you buy Speakada Anki Flashcards, you'll get a download link via email. Note that this link has an expiration date.
If it doesn't work or has already expired, relax, we've got a solution.
Just contact our helpful Speakada Team at [email protected] – We'll confirm your purchase and send you a new download link that's good to go.
3. Equip Your Device with Official Anki:
Make sure you have the official Anki installed on your device. Our flashcards are designed to work exclusively with the official Anki software and app, so using a different software or app won't work.
As mentioned on our website and sales pages, we provide digital Anki flashcards which you use with the official Anki software or app..
You can download and install Anki for free from the official website here: https://apps.ankiweb.net/
If you haven't installed Anki yet, follow our Anki installation guide here.
4. Keep Anki Up to Date:
If you already have Anki on your computer or other devices, make sure you have the latest version installed. Older versions may have bugs that can affect the functionality of Speakada flashcards.
Check the official Anki website to find the latest version for your specific device. The official Anki website is here: https://apps.ankiweb.net/
If you want to check your current version of Anki, then go to settings in Anki to see your current version.
5. Master Syncing Across Devices with AnkiWeb:
If you want to study the Speakada flashcards on multiple devices, like your phone and tablet and your computer, then you need to setup a FREE AnkiWeb account and understand how to use it properly.
AnkiWeb is a cloud service specifically designed for Anki users. It allows you to store all your Anki data, including decks, flashcards, and progress, securely in the cloud.
Since AnkiWeb is a cloud service, this means that instead of relying on a single device, such as a computer or smartphone, to access your Anki decks, you can synchronize your data with AnkiWeb and access it from any device that has Anki installed and is connected to the internet.
If you haven't setup AnkiWeb properly yet across your devices, then follow our AnkiWeb tutorial here.
6. Troubleshoot Missing Audios or Images:
While using Speakada Anki flashcards, you might encounter issues with missing audio or images. This rarely occurs, but it may happen due to issues with your device and Anki version.
No worries – we've fixed issues like this before.
Here's what you can do:
a) Check for Missing Media: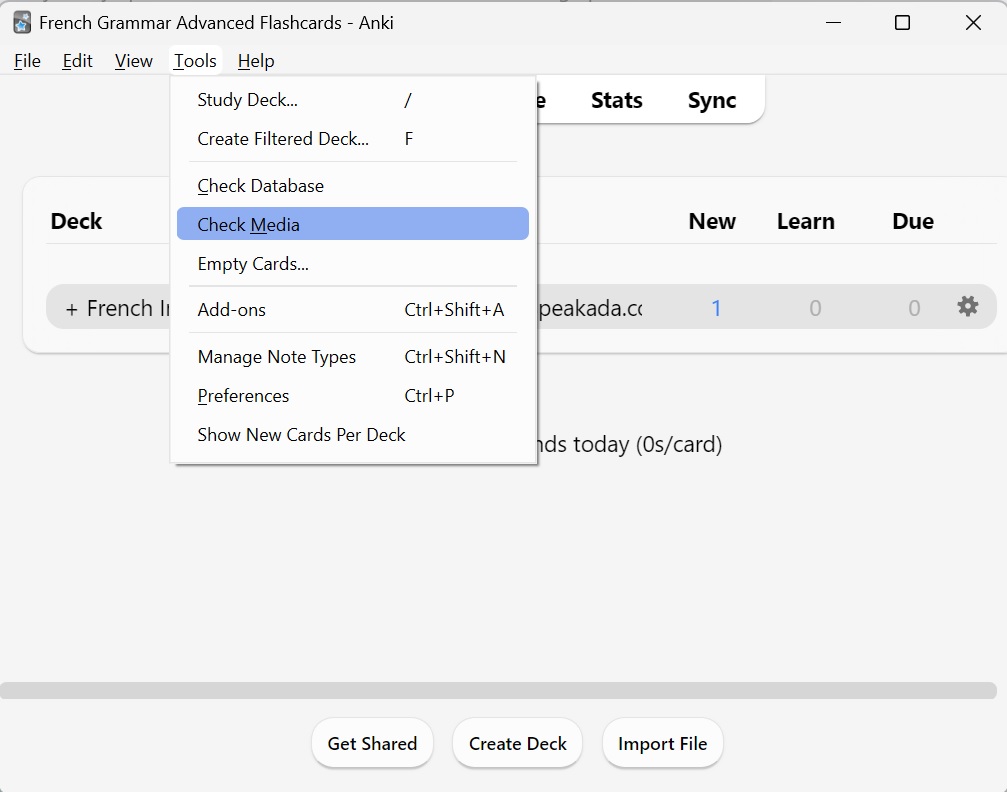 Use Anki's "Check Media" function to identify any missing audio or images. On the computer version of Anki, click "Tools" on the top menu bar, then "Check Media".
On mobile devices, look for the "Check Media" button, which you can usually find after tapping on the 3 dots on the top right of the main decks screen.
If any files are missing, reach out to us, and we'll quickly provide you with the missing media. Additionally, we'll ensure the entire deck is bug-free to prevent future learners from encountering this issue.
b) Media Compatibility:
If "Check Media" indicates no missing files, but you're still experiencing audio or image problems, it might be due to compatibility issues with recent Anki versions. Don't worry, we can resolve this.
Simply inform us about the problematic audio or image, and we'll send you the necessary files while ensuring the entire deck is updated to help future learners.
c) Use the "Replay Button" for Short Audio Clips: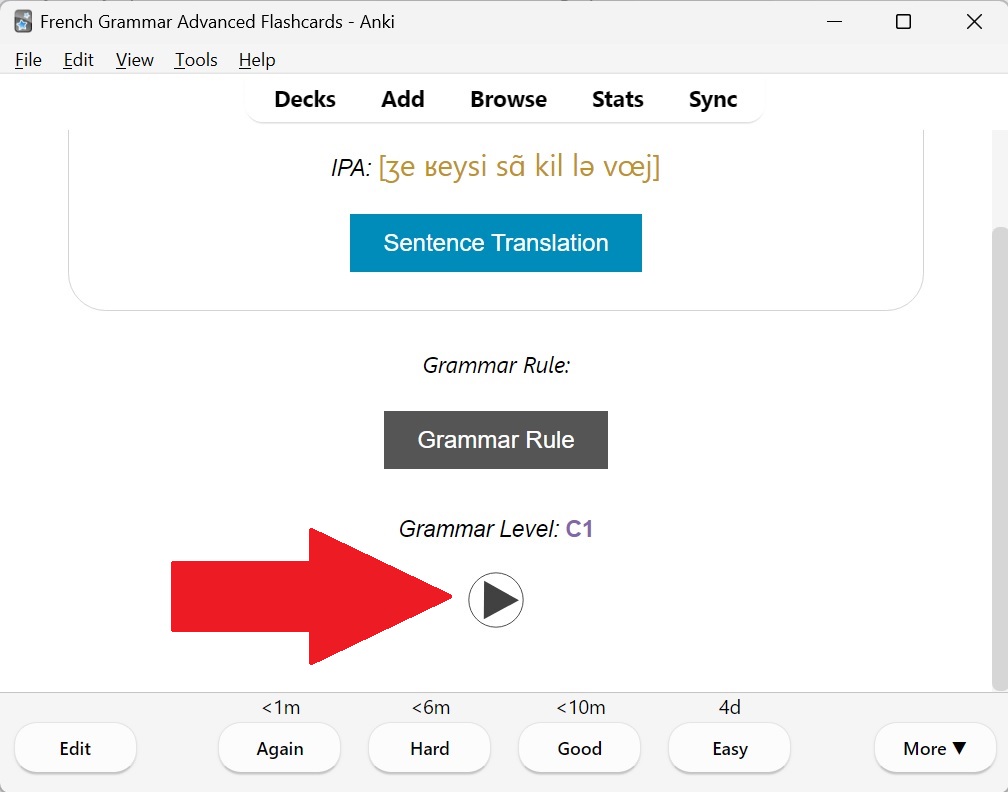 If audio playback appears unclear, especially for shorter audio clips, use the replay button.
Flashcards with audios usually have a play button on them, and you can press this to replay the audio. This feature ensures that even swift or easily skipped sounds are played distinctly, enhancing your learning experience.
If these tips above don't fix your missing images and audios, then get in touch with our expert team at Speakada, and we'll help quickly replace your missing pictures and sounds. We'll also update the entire deck with the fixed audios and images so that future learners benefit.
7. Reach Out for Support:
If you have followed the troubleshooting steps above and are still experiencing issues with Speakada flashcards in Anki, don't hesitate to seek support. You can reach us via email at [email protected]
Speakada's dedicated support team is available to assist you with any technical difficulties or questions you may have. We are experts in both Anki and language learning, so reach out to our support channels for personalized guidance.
The Bottom Line – Making Speakada and Anki Work Together:
Using Speakada Anki flashcards can significantly enhance your language learning journey. By following these troubleshooting tips, you'll be able to resolve common issues and get your flashcards working seamlessly.
Install the official Anki, update to the latest version, use a computer for initial setup, and ensure your Ankiweb account is synced across devices.
If you still have problems, reach out to us at [email protected] with detailed information, and we'll be happy to assist you promptly. Enjoy your language learning with Speakada and Anki!